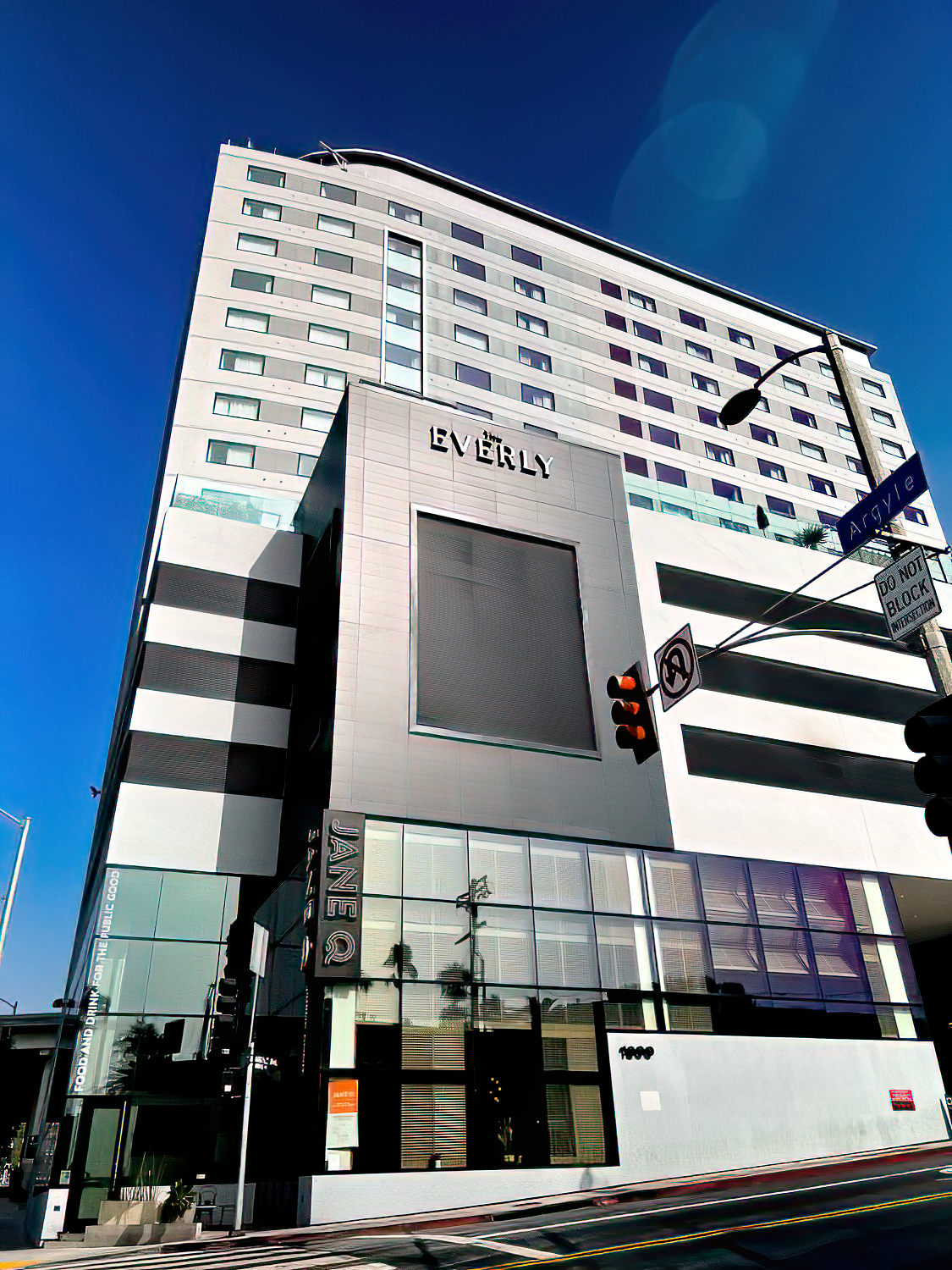 The Kimpton Everly Checks All The Boxes
When the coronavirus refused to loosen its grip on the world, we had to cancel our trip to Belize. It was the fall of 2021 and we were a family of 4 with no Thanksgiving week plans.
Two teenagers were part of the equation, so just staying home for a quiet break was not an option. What to do? Hmmm… it would have to be something exciting enough to make up for the Caribbean cancellation, but cool enough for teenagers and accessible enough for me to plan in a time crunch during a global pandemic. No pressure! Time for a power pivot.
And then it occurred to me – despite living in northern California for many years, we had never properly played tourists in southern California (apart from the mouse house).

Must-do "Tourist" Activities in LaLa Land
I did some preliminary research, organized my pitch and presented it to the board (or bored?) aka the teenagers and my husband.
To my surprise, everyone immediately cottoned to the idea and began throwing in their votes for must-do activities in LaLa land: Pictures by the Hollywood sign, Griffith Park, Malibu Beach, the Walk of Fame, celebrity spotting at Nobu, dinner at Musso and Frank's – they were on a roll and gathering steam!
Seeking a Luxury Lair
But there was one vital decision I claimed for myself: where to stay. In recent years I have come to accept the fact that I am deeply opinionated when it comes to hotels. In years past, I used to pride myself on being able to find the best deal for the most serviceable, no-frills room and even towed the popular line of "you don't spend much time in your room anyway".
Now? Now I understand and accept about myself that the hotel is a big part of the enjoyment of the travel experience for me.
I'll just say it – I love fancy hotels! So on this trip, the teenagers could have their fill of visiting the places popularized by reality stars and the husband could see sights from his favorite Harry Bosch detective stories, but mama? Mama would have her luxury lair.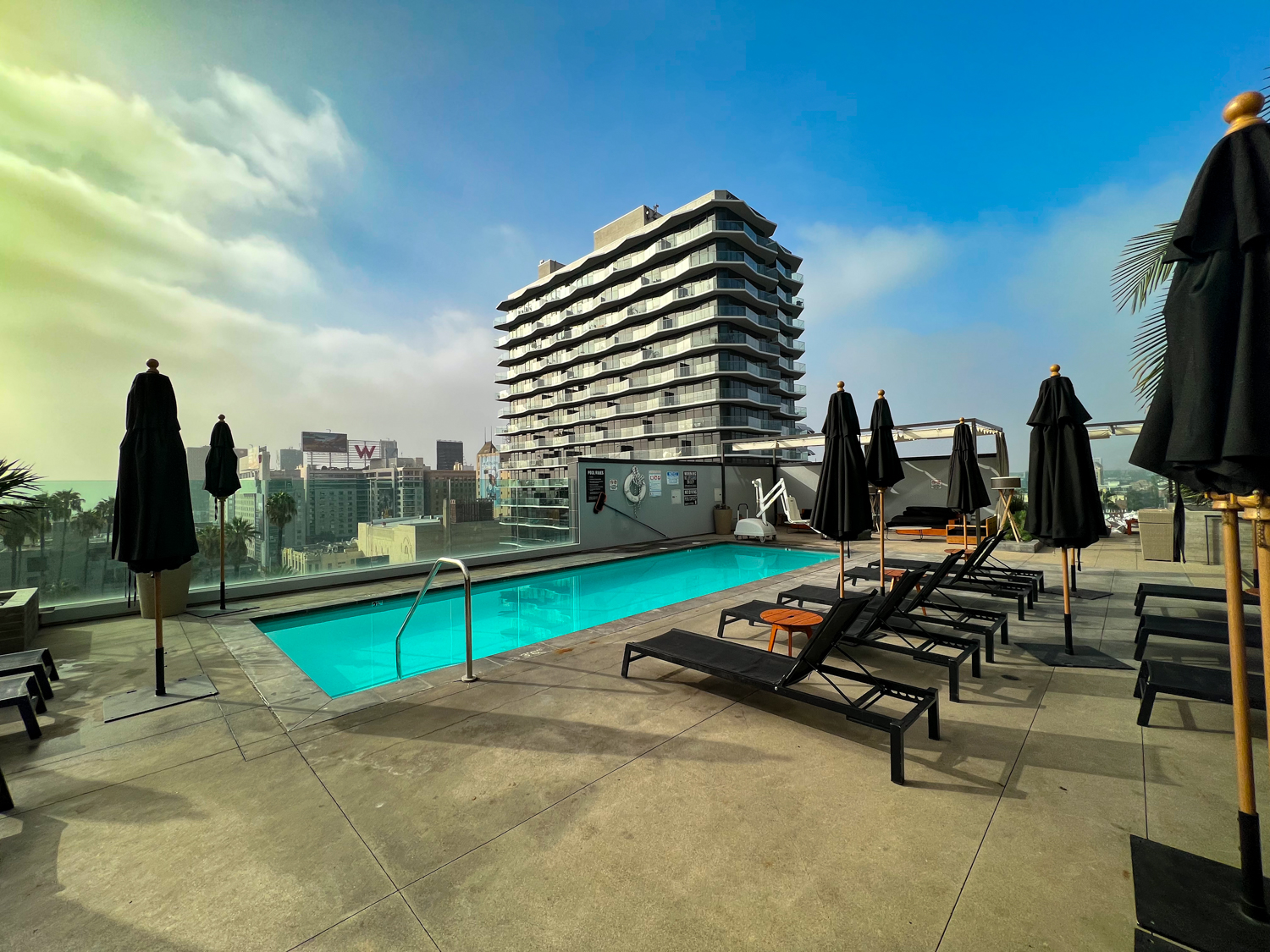 The Kimpton Everly Checked All The Boxes
I was giddy in my google zone exploring the tons of hotels in the greater Los Angeles area. So many choices, so many possibilities! Even though I had claimed the lodging pick for myself, I still wanted everyone to be happy with my choice.
There would need to be a pool, a cool factor and a bar. Location close to the touristy stuff we wanted to do. Parking for sure.
And – I wanted to feel like a rockstar. Even just for a minute.
Enter the Kimpton Everly. With all of the boxes ticked, I wasted no time booking their fanciest suite with adjoining room for the kids and a view of the Hollywood sign. Score!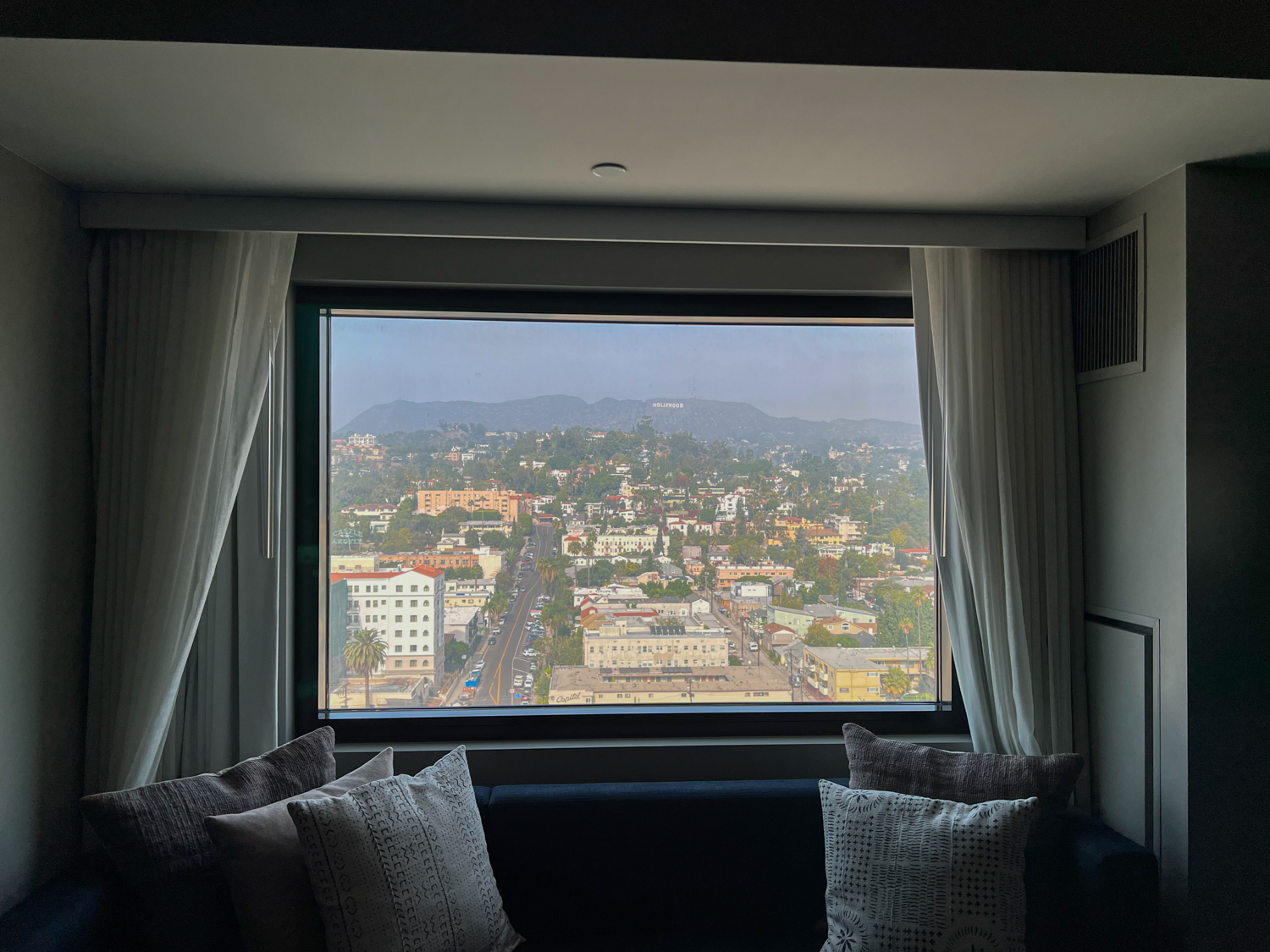 And none of it disappointed. From the moment we entered the smooth, minimalist concrete lobby we felt like VIPs. Check-in was a breeze, and I held my breath when we took the elevator to the top floor. I'm always afraid my hopes for the room I've booked are too high and will surely be dashed by cold, hard, disappointing reality. Not this time!
The suite was on the stark side, but this only served to showcase the amazing view of the Hollywood Hills, the iconic sign perfectly framed by the large windows. Low sofa, stylish platform bed and a stunning freestanding tub only enhanced my rockstar moment. And even the teenagers agreed it was super cool.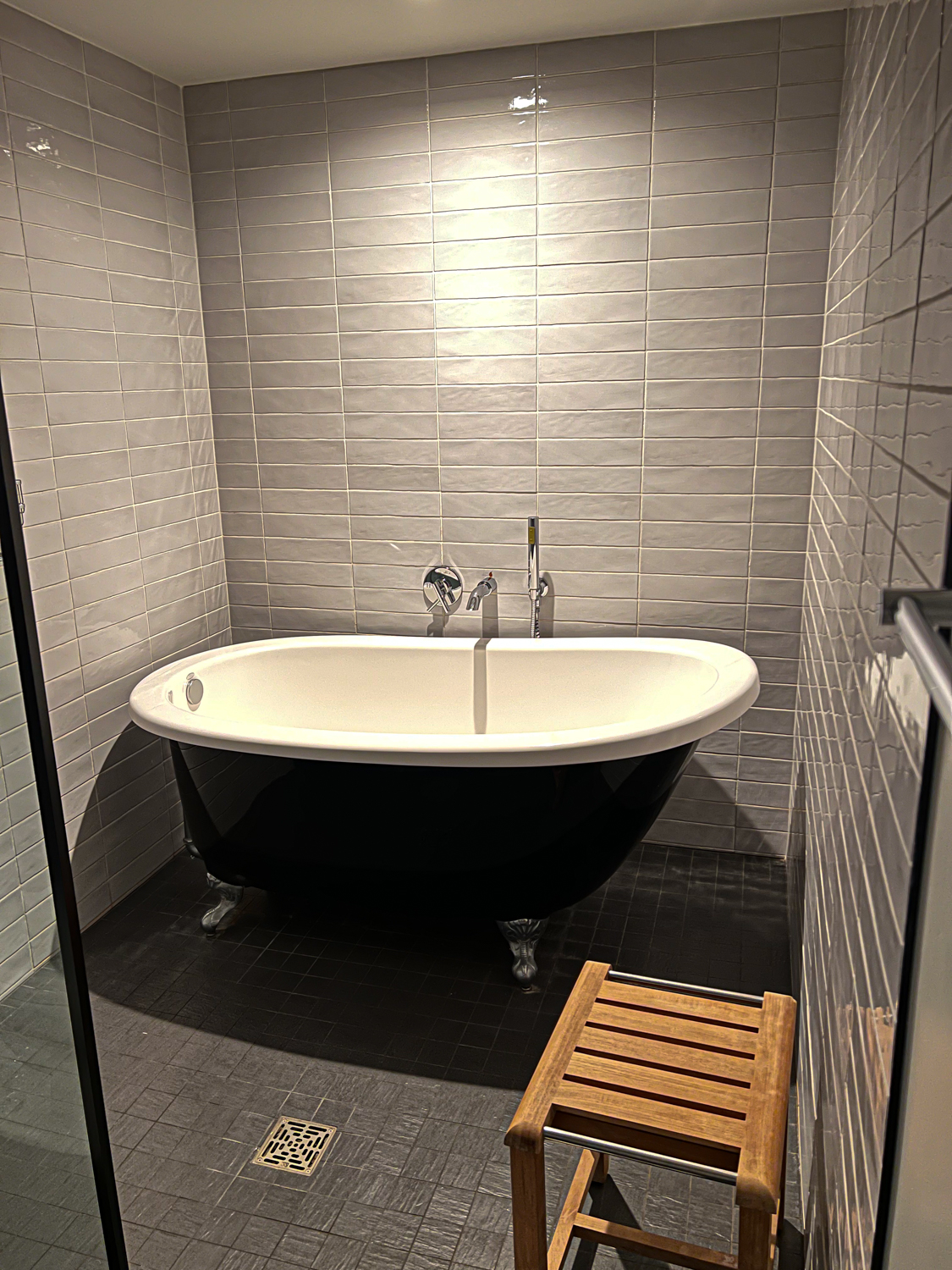 Our busy itinerary kept us on the go, but we still managed drinks in the bar, a dip in the pool and a great lunch at Jane Q. We even ordered their meatloaf sandwich a second time (via room service, for breakfast!)  because it was that good!
The best part though? Cuddled up with the kids on our sofa in the morning, tea in hand, all mesmerized by the view out our picture window. The promise, the spectacle, the history of Hollywood all spread out at our feet, beckoning us to come and indulge.
Follow KC Shomler on Instagram –  https://www.instagram.com/kc.is.me/
Scroll down for details on the Kimpton Everly and more photos 
Words by KC Shomler Photos by Steven Shomler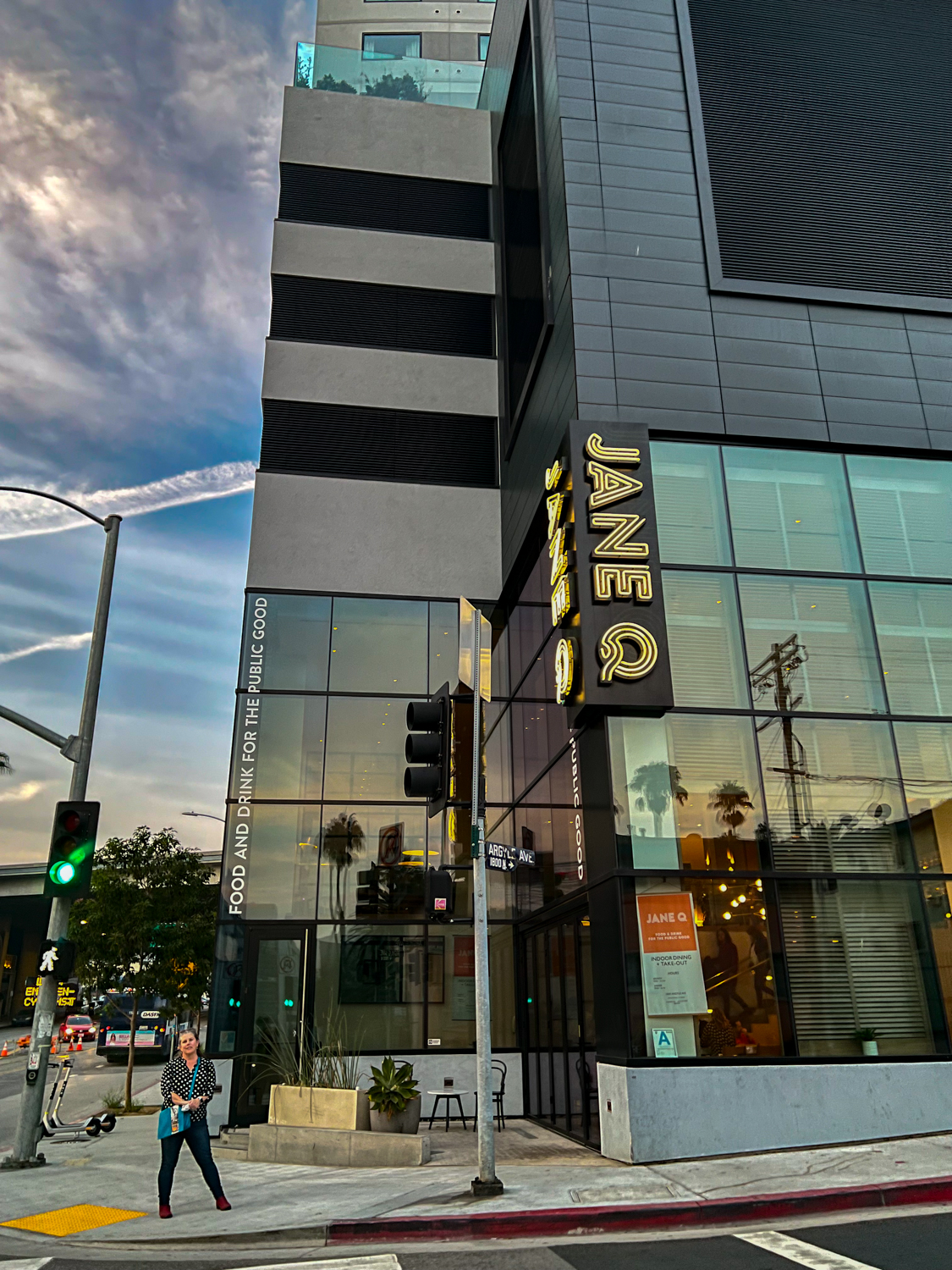 Kimpton Everly Details
Address: 1800 Argyle Ave, Los Angeles, CA 90028
Neighborhood: Hollywood
Parking: On site valet, for a fee. Street parking prospects are dim and dangerous.
Pool: Yes! Rooftop pool area on the 5th floor with views stretching out to the Pacific Ocean
Restaurants and bars on site: 2
Service: Pleasant, but not warm. Businesslike, but considerate.
Surrounding attractions: Hollywood, walk of stars, Hollywood sign, Sunset Strip, Beverly Hills
Notable features: Views are dreamy – book a room with view of the Hollywood sign. Iconic.
Why to stay here: Location, views, good service
Follow The Kimpton Everly
Website https://www.everlyhotelhollywood.com/
Facebook https://www.facebook.com/Kimptoneverlyhotel/
Twitter https://twitter.com/kimpton
Instagram https://www.instagram.com/everlyhollywood/
Follow The Kimpton Hotel Group
Website https://www.ihg.com/kimptonhotels/hotels/us/en/reservation
Facebook https://www.facebook.com/Kimpton
Twitter  https://twitter.com/Kimpton
Instagram https://www.instagram.com/kimpton/
70 More Kimpton Everly Photos